Back To Our Services
Looking for the best residential services for locks and keys? Our professional locksmith company is here to provide them. We do everything for homeowners from fixing and rekeying locks to installing deadbolts. Thanks to our expertise and mobility, our scheduled and emergency services are fast as well as perfectly effective and reliable. Rest assured that we work with all kinds of door locksets regardless of the technology they use and the brand which they come from. Every job is done meticulously for delivering the best results quickly. This is what makes our company a top choice.
Perfect Home Security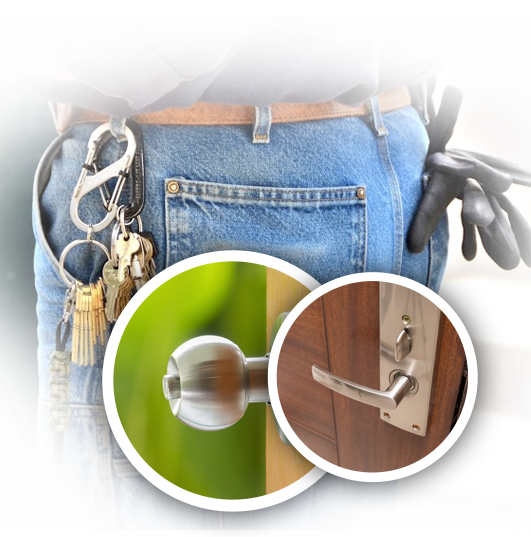 In any kind of emergency situation related to locks and keys, you simply need to call us and we will come to the rescue quickly. At "Locksmith Schaumburg", we cover the entire local area. Our crew is perfectly mobile and this enables us to reach even the most remote locations quickly. Our emergency services range from house and apartment lockout opening to the rekeying of locks. When you are locked out of your property, we will help you get back inside in the shortest time even if we have to deal with a severely damaged or highly complex lock.
Rely completely on our expertise in fixing locksets and keys. It takes us little time to identify the problem and its cause. Then we use the most effective lock repair technique. Thanks to our vast expert knowledge and master skills, we fix mortise sets and electronic and solenoid locks equally well. When the lockset is beyond repair or has become too worn or outdated, we will replace it with a new one. Our company uses only the finest replacement devices and components. They are chosen for their effective operation and high durability.
Use our services to get the best solution for stolen or lost house keys. We are experts in rekeying even the most intricate cylinders and use only the finest precision tools to ensure that the pins and springs inside operate flawlessly. With rekeying, the configuration of the lock is changed so that it can be used with another key. We will provide a set of replacement keys as well.
Do not wait for something to happen before you call us to improve the security of your home. Our solution is fully comprehensive and includes analysis of the current level of security and full consultation. With our assistance, you will be able to select the best locksets for all exterior doors and for the ground-floor windows as well. We can implement an entire plan for better property protection. Our technicians are equally good at lock and safe installation.
Check out our website to learn more and to contact us online.
Back To Our Services